This week
Lost in Books
wanted to know about book covers that we shouldn't judge a book by. The first one that came to mind for me was from "52 Scrapbooking Challenges" by Elsie Flannigan. I follow
her blog
and she always posts the cutest pictures of herself. But on her cover she looks straight up dorky. What happened?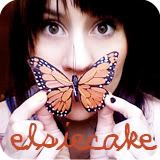 The picture on the right is from her blog. See how cute she usually is?!
The next 2 book covers that I chose are just examples of my least favorite kind of book cover: the movie tie-in. Left side = movie tie-in. Right side = much cuter version
Here's the exception though:
Doesn't get scarier than that!
I wish I could remember the titles of a trilogy I read in high school about a girl name Christie. The covers were so awful and distracting that I cut out pictures from magazines and taped new covers over them. I had a lot more free time back then.